Printed articles look much better in the PDF eBook of How a Car Works.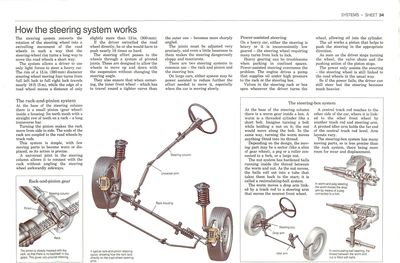 Download the whole PDF eBook for just $8 today at www.howacarworks.com/pdf
The steering system converts the rotation of the steering wheel into a swivelling movement of the road wheels in such a way that the steering-wheel rim turns a long way to move the road wheels a short way.
The system allows a driver to use only light forces to steer a heavy car. The rim of a 15 in. (380 mm) diameter steering wheel moving four turns from full left lock to full right lock travels nearly 16 ft (5 m), while the edge of a road wheel moves a distance of only slightly more than 12 in. (300 mm). If the driver swivelled the road wheel directly, he or she would have to push nearly 16 times as hard.
The steering effort passes to the wheels through a system of pivoted joints. These are designed to allow the wheels to move up and down with the suspension without changing the steering angle.
They also ensure that when cornering, the inner front wheel - which has to travel round a tighter curve than the outer one - becomes more sharply angled.
The joints must be adjusted very precisely, and even a little looseness in them makes the steering dangerously sloppy and inaccurate.
There are two steering systems in common use - the rack and pinion and the steering box.
On large cars, either system may be power assisted to reduce further the effort needed to move it, especially when the car is moving slowly.
Power-assisted steering
On a heavy car, either the steering is heavy or it is inconveniently low geared - the steering wheel requiring many turns from lock to lock.
Heavy gearing can be troublesome when parking in confined spaces. Power-assisted steering overcomes the problem. The engine drives a pump that supplies oil under high pressure to the rack or the steering box.
Valves in the steering rack or box open whenever the driver turns the wheel, allowing oil into the cylinder. The oil works a piston that helps to push the steering in the appropriate direction.
As soon as the driver stops turning the wheel, the valve shuts and the pushing action of the piston stops.
The power only assists the steering - the steering wheel is still linked to the road wheels in the usual way.
So if the power fails, the driver can still steer but the steering becomes much heavier.
Please like us on Facebook
Meanwhile, on our blog...