Máquina de clips
Así es cómo se hacen los clips. Podía verlo todo el día.
How paperclips are made

This Paperclip Machine is one of the most amazing machines we've ever seen. It's hypnotic! Find more cool videos on our blog at www.howacarworks.com/blog

Posted by How A Car Works on Monday, 23 November 2015
La historia del clip es un misterio. La máquina que se puede ver arriba parece estar haciendo un clip del tipo Gem , que es el más común y el cuál nunca fue patentado.
Esto está tomado de una patente de 1899 para una máquina de clip (no el propio clip).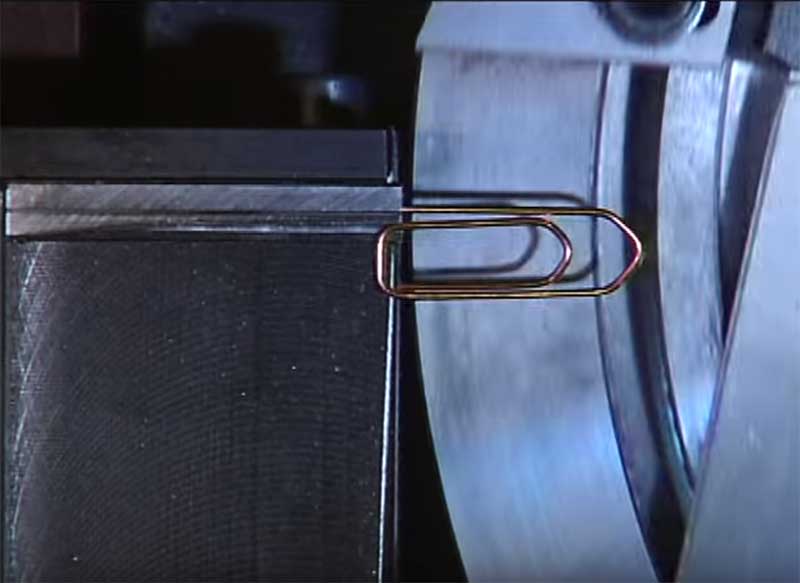 A principios de 1990 las fábricas chinas producían tantos clips que EE.UU. tuvo que introducir aranceles antidumping contra las importaciones procedentes de éste país.
Los clips se convirtieron en un símbolo de resistencia, sobre todo en Noruega, y fueron utilizados ​​en la ropa en protesta por la ocupación nazi y el nazismo en general. La razón de esto fue la creencia errónea de que el clip fue creado por el inventor alemán-judío Johan Vaaler. El sí inventó una nueva versión del clip, pero no el original.
En la actualidad el clip es el símbolo universal de un archivo adjunto, superando a sus rivales como el sujetador de papel, grapas y pinzas.
Related
I've had quite a few questions from people about why I chose to use an MX5 Miata for the video series. Was it sponsored? Am I an expert with them? Because I love them? The answer is... it just seemed the best choice at the time. Now, with hindsight, I realise it was the best possible choice in the world. Here's the story... Read more