2013 income report
Or "How I bootstrapped from earning nothing to not very much"
A year ago I posted a Show HN where I explained how I had negotiated the copyright for an out-of-print car repair manual, scanned the pages, and turned them into a simple website called How A Car Works.
I am sharing my traffic and income figures for this project because How a Car Works is a bit of an experiment. Can high quality content bring in meaningful revenue? And could niche books perform better as free websites rather than chargeable print books or eBooks?
Financials
| | | |
| --- | --- | --- |
| Adsense income | $2501 | |
| PDF sales | $160 | |
| Total income | | $2,661 |
| Linode server (shared with other sites = $240 / 3) | ($80) | |
| Domain | ($10) | |
| Typing out image captions | ($197) | |
| Total expenses | | ($287) |
| Total profit | | $2,374 |
I'd estimate I have spent 10 days working on the site this year
Here's my 2013 summary
On-page SEO has boosted traffic from 1,700 weekly visits to 11,200.
Adsense income has risen to around $80 a week from $15.
Selling the site as a PDF over the last fortnight has brought in $160.
Detailed stats
Adsense

Google Analytics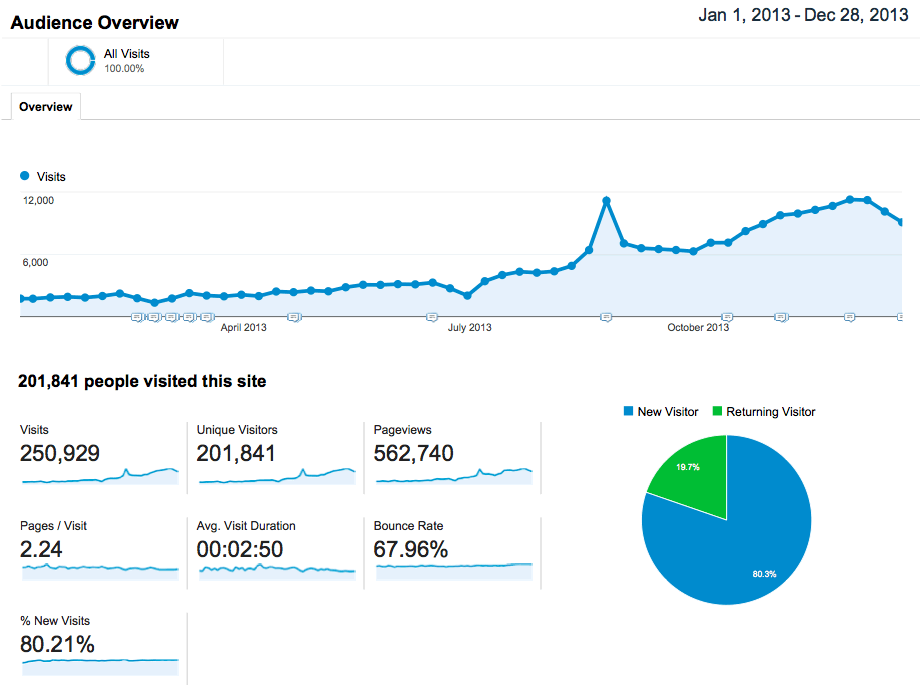 Things I've done (in order of effectiveness):
Shortly after my HN post last year, Paul got in touch to offer some of his advice on SEO for the site. It was a great offer, and Paul followed through with some excellent guideance and help on both what to do, and above all how to track it.
I think a great deal of the 6x increase in organic traffic has probably come from Paul's tips, all of which have so far been on-page.
One of the key things we focussed on was site speed, and Paul did a detailed write up of our methods and results.
Selling the site as a PDF
I only got around to generating a PDF of the book a few weeks ago. I'm selling it for $5 and taking credit card payments through Stripe. For legal reasons I am not able to sell the PDF in the UK, so advertisements for it are geotargeted.
It's early stages but it looks like sales of the PDF are already matching Adsense income. I wonder if packaging the site into an iOS app would perform similarly or better. My initial thought was that I'd never rank in the App Store so why bother, but now I'm wondering if just linking to an app from the site would bring in reasonable sales.
This was very little effort for an almost instant return. Stripe is a joy to work with.
Responsive design
The last version of the site had both a mobile (jQuery mobile) and an HTML version. The mobile version ended up neglected and I didn't enjoy having twice as much view code to manage. Enter Bootstrap 3 and responsive design. Now there's one design that looks good across most devices. It's not perfect, and the design is still a little too bland, but it's functional and relatively clean. There is now a responsive Adsense unit in beta which I need to test.
Captioning illustrations
When I scanned the book, I was able to OCR the body of each article, but the captions were left with their pictures and treated as graphics. There was no real way for me to keep the pictures in appropriate places in the article text, so I simply displayed all pictures in a sidebar. It was a bodge, but sort of worked.
When I redesigned the site I wanted to spread the pictures throughout the article text in a more visually pleasing way. I've accomplished this by splitting the markdown into block elements, and then distributing the pictures equally between these blocks, alternating between left and right floats. It works well for most articles.
The next step was to extract the captions from the pictures into text. I set up a backend and paid a teenage family friend £0.20 per picture to type out the caption, and then edit the image using Aviary to remove the caption from the graphics. This adds more meaningful content and helps with SEO. I have quite good rankings on Google Images and this seems to bring in good traffic.
Leaving the site up
At the moment it is hard to know whether the site is still rising in traffic because of the actions I'm taking, or because it has been around a while. It's so hard to track SEO.
What didn't work
SEOmoz
I paid a couple hundred dollars in an SEOmoz subscription this year, but found it didn't really offer me anything above Google Webmaster and Page Speed tools and wasn't worth $99 a month.
Getting backlinks
There are still hardly any backlinks to the site and I don't really know how to boost this efficiently. I was thinking about licensing the content under Creative Commons as I've noticed a couple of sites just copy and pasting my articles in without even a link back.
Anything else?
If you'd like to know anything else just post in the HN thread and I'll disclose anything I can.