The commutator segments have a varnished look. This coating may be due to dust and water inside the casing, or to particles worn from the brushes or the mica insulation strips between segments.
Articles Title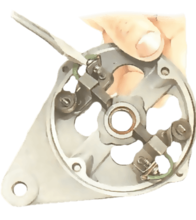 Replacing dynamo brushes
Use a screwdriver through the hole in the endplate to move the end of the coiled spring from the...