Remove the plug leads by gripping the caps, not by pulling on the leads which may damage them. Label the leads if necessary to avoid confusion when re-fitting them.
Articles Title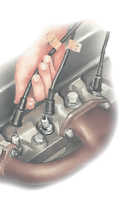 Cylinder compression test
Using a vacuum gauge It is possible to check cylinder compressions by using a vacuum gauge, if y...