Working on the wiring system
The electrical wiring in a car is a system of colour-coded wires called the loom. Where several wires run side by side they are bound together with insulating tape or plastic sleeving.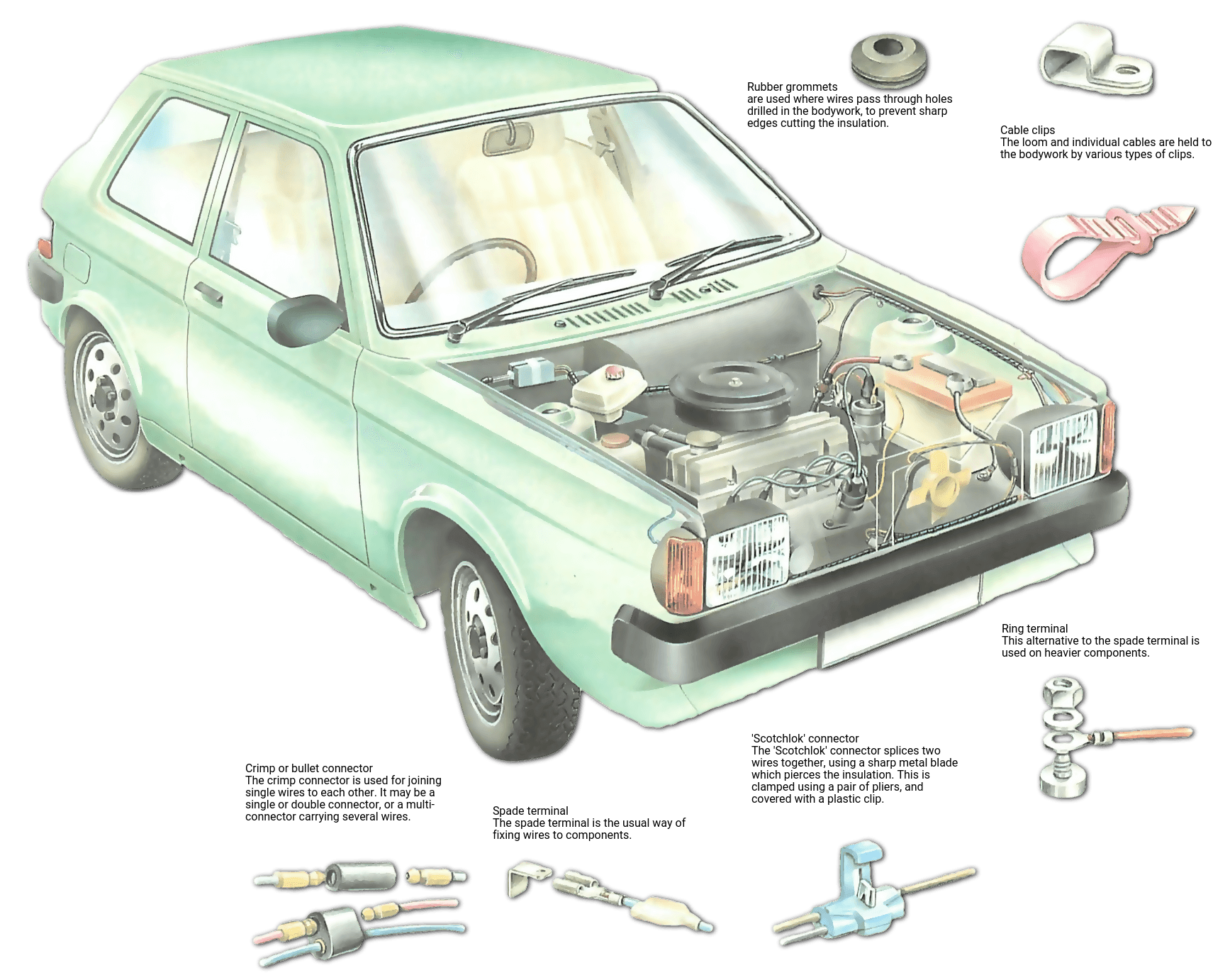 Several modern cars have separate thin wires embedded in flat plastic strips. These strips are very compact, and are used mainly for accessories and relay controls that require little power.
Wires and bundles of wires are clipped to the bodywork to keep them out of the way. Where they run through a hole, the sharp edges are lined with a rubber grommet.
Sometimes the loom is divided into sections joined by multi-pin plugs and sockets, so that it can be removed and refitted section by section.
Joins in individual wires are usually made with crimp connectors. The colour on the sleeve of a connector denotes the size of wire it will take.
The bared ends of each wire are pushed into opposite ends of the metal-lined plastic sleeve, and squeezed with crimping pliers. There are multiple sleeves or other special connectors where a wire branches off.
Wires are usually connected to components by plastic-covered terminals which push on to a blade on the unit called a spade terminal.
Nearly all types of terminals should be fitted to the wire with crimping pliers .
There are a few types such as the `Scotchlok' which are secured by clips.
For additional security, you can add solder to the wire.
Use a 25-65 watt iron for most work, and a 150-250 watt one for large cables, or an 8 oz (225 g) gas-heated iron.
Working safely
Disconnect both terminals of the battery before doing any work on wiring other than testing.
Whenever you work on the car, watch for any part of the loom coming loose from its clips, for there is a risk of it getting trapped or burned. Always replace wiring in its clips.
Also look for grommets that have come out of their holes. The sharp edge of the hole will soon chafe through wire insulation and cause a short circuit .
Whenever you pull a connection apart, look for corrosion which might cause bad contact.
If necessary, clean contacting metal surfaces with a fine file or emery cloth. But it is better to replace the terminal once corrosion has destroyed the surface coating.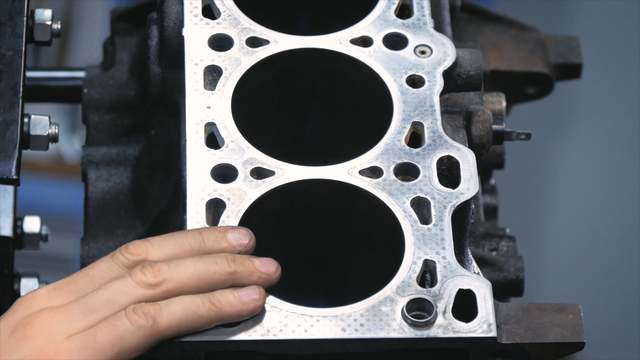 Stop wasting time on YouTube and get serious!
The Ultimate Car Mechanics video course
Learn everything about modern cars from our new video series.
Learn more >
We build a Mazda MX5 Miata from scratch

We start by tearing down and then rebuilding the whole car.

Every part explained

There's ridiculous detail on every part. Clearly and easily explained.

All modeled in 3D

We've created the most detailed 3D model ever produced so we can show you everything working.
Start watching