How to clean a car interior
Car interiors collect a lot of dust and grit, particularly on the carpet. Regular cleaning cuts down wear and discoloration, and gives the carpets and upholstery a longer life.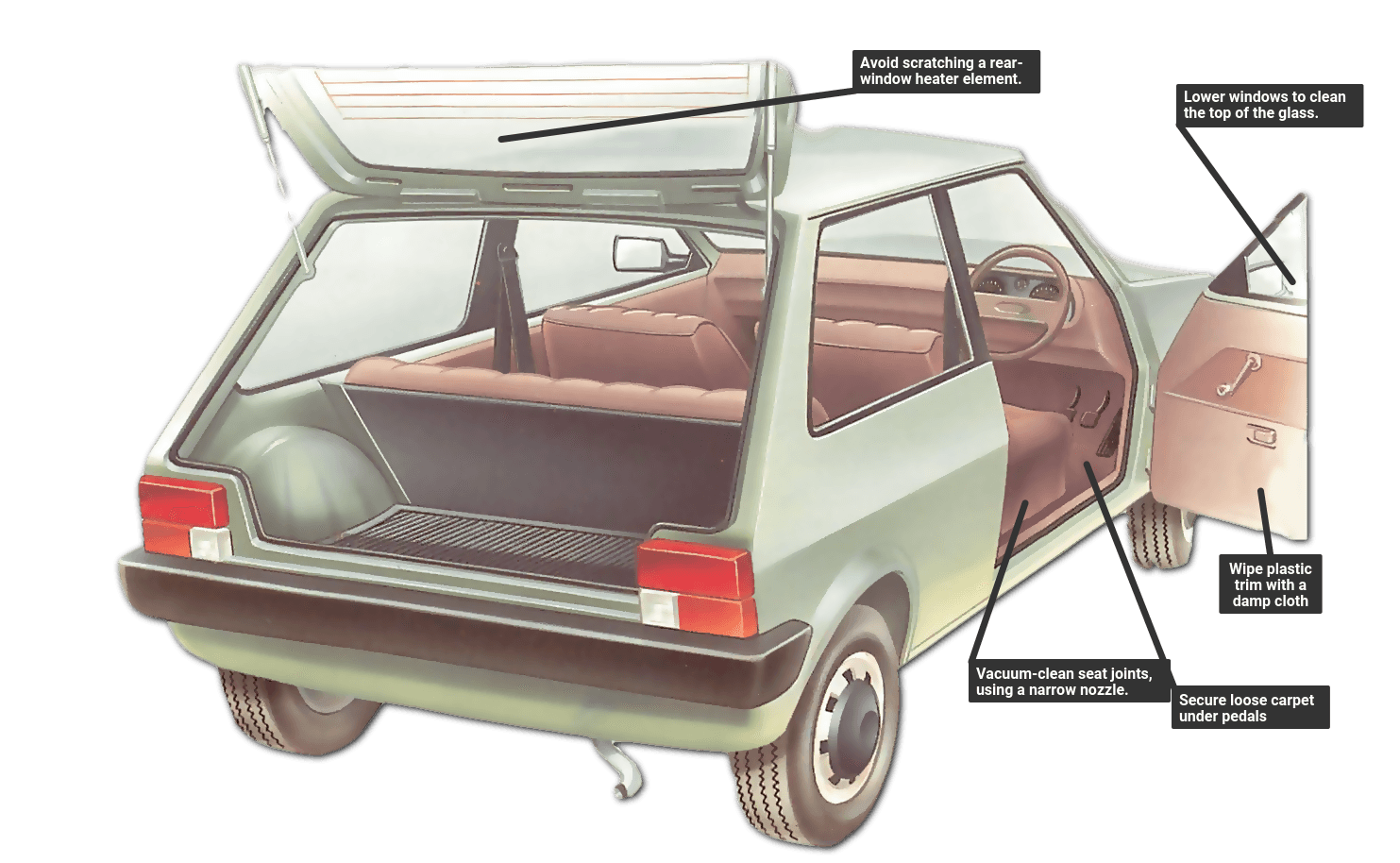 As dirt and grit builds up on the floor, it is embedded in the pile, accelerating wear and eventually cutting through the woven backing.
Stains or smears on upholstery or panels are more difficult to remove if left a long time, even on plastic.
At least once a year, give the inside of the car a 'Spring clean'.
Remove the carpet if possible, and check the floor for rust and leaks carpets and underfelts tend to absorb moisture which can cause rusting.
Cleaning carpet, seats and headlining
Clean carpets with a vacuum cleaner if possible, or use a dustpan and stiff brush .
Lift off or slide the front seats to get underneath them. Remember to clean carpeting on door trims or a rear parcel shelf.
If the carpet can be removed, beat it thoroughly every six months or so. Most later cars have carpets screwed or glued in position.
Loose or torn carpet under the pedals can cause an accident . Use an impact adhesive to stick it firmly to the toe board.
Place a rubber mat over the carpet under the driver's heels , to reduce wear.
Ideally, clean cloth seats with a vacuum cleaner, using a narrow nozzle for deep joints in the seats and backrests.
Occasionally clean the upholstery with a thin layer of carpet shampoo and water, applied with a small, stiff brush. Do not soak the cloth - if the interior foam is wetted it takes days to dry.
Remove stubborn stains with a proprietary stain remover or strong solution of shampoo, but test first on a hidden area.
If the cloth changes colour, use a milder cleaner.
Wipe vinyl or leather seats with a damp cloth. If grimy, clean them with soap and water and wipe off suds with a clean, damp cloth. Remove stains with a vinyl cleaner.
Do not overlook the headlining.
Remove dust with a vacuum cleaner or soft brush. Do not press a suspended lining too hard, or the material will stretch and the lining will sag.
When removing stains, you may be left with a lighter area and so have to treat the whole lining.
On plastic linings, remove stains with a light application of vinyl cleaner on a damp cloth.
On cloth linings, use carpet shampoo very lightly applied with a soft brush. Do not press hard.
Cleaning glass, the dashboard and trim
Remove fingermarks and stains from glass, including instrument glass, with neat windscreen-washer additive on a damp cloth.
For the residue from stickers, use a little methylated spirit on a damp cloth.
A mixture of half methylated spirit and half water will remove tobacco stains.
Regularly clean all glass, including the rear-view mirror, with a chamois leather wrung out in clean, warm water.
Lower the side window to get at the top edge of the glass that fits in the window channel.
To clean a heated rear window, with a surface element , remove any rings and wear rubber gloves. Make sure there is no grit on the leather. A tiny scratch across one element can put the heater out of action.
Once a year use a proprietary window-cleaning liquid to clean the inside of all window glass.
To clean the dashboard , wipe plastic with a damp cloth, and wood with a dry cloth. Mop up any water drops with a chamois leather wrung out in clean, warm water.
Wipe plastic trim with a damp cloth. Do not use too much water.
The board backing on panels distorts if wetted. Use vinyl cleaner for stubborn stains.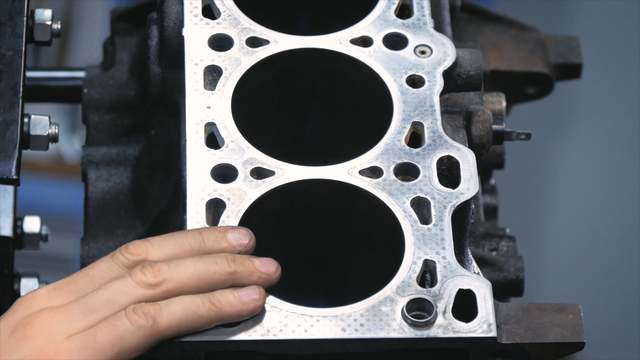 Stop wasting time on YouTube and get serious!
The Ultimate Car Mechanics video course
Learn everything about modern cars from our new video series.
Learn more >
We build a Mazda MX5 Miata from scratch

We start by tearing down and then rebuilding the whole car.

Every part explained

There's ridiculous detail on every part. Clearly and easily explained.

All modeled in 3D

We've created the most detailed 3D model ever produced so we can show you everything working.
Start watching